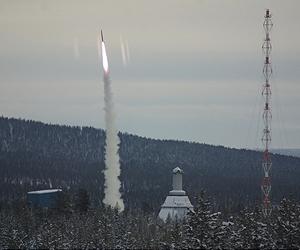 The first student rocket planned for this week, REXUS 7, was successfully launched from SSC's launch facility Esrange Space Center. The rocket carried three student experiments onboard.

The rocket reached an altitude of 83 km and landed north of Esrange Space Center. The recovery operation has started and the payload will be brought back to the students by helicopter for further analysis.

The three experiments onboard were:

+ VIBRA DAMP with the aim to analyse disturbing forces during weightlessness

+ MONDARO, measuring neutral-gas density in the atmosphere

+ BUGS, deploying a satellite boom for gravity gradient attitude stabilization. Read more about the experiments onboard REXUS 7.

Giving the next generation of space engineers the chance to take part in a real space mission, already during the student phase is a deliberate attempt to prepare the students for their future career

"I learned so much more from this experience than I would ever learn during my normal physics studies", says Dorte Petzsch, team leader of the MONDARO team from the Institute of Atmospheric Physics in Kuehlungsborn near the University of Rockstock in Germany. "Now it seems as the flight was successful and I'm looking forward to analysing the data".

The next student rocket, Rexus 8, is scheduled for launch on Thursday later this week.